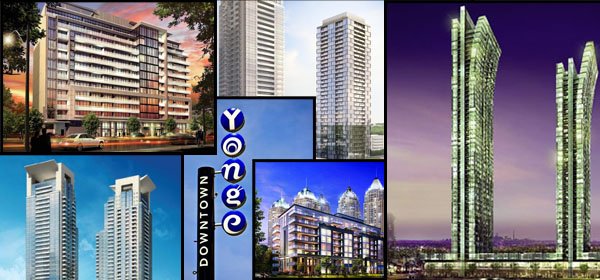 North York is a vibrant area of Toronto, many don't even realize that they have passed or even arrived in the area due to it's transparent boundary to Richmond hill and the Toronto core. The main hub centre of the region Yonge & Sheppard is responsible for some great condo projects, designs and deals. The best developers in the GTA have firmly planted their feet in the city which is a clear indicator that North York is a emerging region to keep an eye out for, let's take a look at the top 10 condo projects in North York!
Top 10 North York Condos
#10. M2 condos by Liberty Developments
This project (like many) has a number of towers being erected in the lot acquired by the builder. M2, Metropolis and Metro Condos are all a great buy!
When Concord Adex is involved you better believe that there is more to Come The Discovery I and Discovery II is another landmark multi-phase development by the community driven builder.
When Minto shows up at the party, anything goes. This Miami-based builder brings green-living and contemporary style to all condominium projects, and 88 Condos is one of them!
Lanterra always packs a punch but this time an upscale low rise 12 storey would fit the area much better for the discerning buyer that needs a few steps away from all the high-rise clutter.
#6. Ion by Cityzen
We love low-rises and Cityzen's Ion Condos is a great buy with another phenomenal design by the internationally known builder, Ion boasts a great location and great amenities and makes it's way on our top 10 list for hottest condos in North York
When Daniels builds condominiums they build with the future in mind NY place and NY2 condos caters to the mature clientel with unparelled quality. NY is the place to be.
Menkes is one of those builders that brings quality to the forefront of each project the company executes, Gibson Square is a dual phase marvel with superb amenities.
#3. Ultra by Monarch
Monarch is ahead of the pack when it comes to arichtecture and style, Ultra boasts high-end finishes and amenities and speaks pride-of-ownership
Tridel is built for life, and its true that Hullmark is truly a project that will stand the test of time and makes its way as one of North York's most coveted condo project.
Emerald Park is a mind bending design that captures the essence of futuristic majestic city Toronto strives for, clearly Emerald Park is the winner and is one of the most desirable place to live.