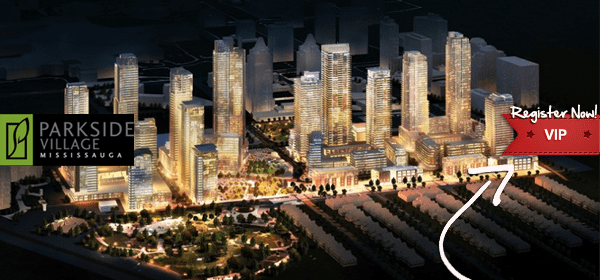 If the "Dubai" like skyline hasn't got you shaken till now the this will; 30 acres. 11 blocks. 3 parks. 15 high-rises. 12 mid-rise podiums and buildings. 10 low-rises. 600 metres from City Hall. 6,000 residential units. 7 commuter gates. 6 streetscapes. 6 commercial block-faces. 7 green roofs… To be Exact.
Parkside Village by Amacon are competing with the people who brought you the  "marylin monroe" – known as the absolute towers in Mississauga, and they certainly have another statement to prove. Their most recent high rise release named "Posh Style Vibe" located just outside the Square One Mall is currently in pre-registration status at the moment but is definatlely geared toward the younger generation of condo buyers, by the look and the name it is possible that this particular high-rise will include an infinity pool, an uberchic pub or restaurant on the ground floor and more upbeat amenties that this sustainable community has to offer.
The outdoor living is what makes this project great, cool features like the Skypark has an impressive view of the Parkside Village. You will enjoy BBQ Lounge, Fireside Lounge, Manicured Gardens, Sunbathing Terrace, Trellis Seating Area, SkyLawn, Training Terrace, Gazebo Areas, Lush Landscaped Walkways, Kid's Playground and Pooch Patio.