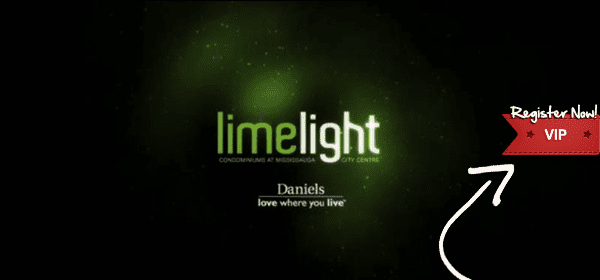 Limelight Condos are beautiful glass-claded modern Mississauga residences showcasing a unique pattern, metal-panelled podium, complete with the convenience of retail venues at the ground level. Limelight Condos is Daniels fifth condominium project in Mississauga. Limelight Condos inspire green living. Limelight Condos will be located in the northwest corner of Living Arts Dr. and Prince of Wales Dr.
Quick Facts
Limelight is located in the heart of Mississauga city centre, close to Square One Mall, Mississauga Transit, Cinemas, YMCA, City Hall, Living Arts, Highway 403-407, Go Transit. Limelight Condos is close to the Sheridan College Campus and Limelight condo suites are ranging from 450 sq. feet to 1,000 sq. feet.

Special Offer
Limelight PHOTOS AND DETAILED INFO – https://www.condoroyalty.com/condos/mississauga/limelight-condos
5% Deposit
One Year Free Maintenance
Newly Released Collection of Suites and Floorplans
Very Special Incentives from Javed Ahmed
$3-5000 Cash Back On Closing.
Work with Limelight's Platinum Agent for the best choice of units
Excellent Location:
Next to Mississauga's Living Arts Centre, Steps to Go Transit, Mississauga Transit, Restaurants, YMCA, Sheridan College, Library, Grocery Stores and Mississauga's Square One Mall!
Builder:
The Daniels Corporaion which has changed Mississauga's Skyline with their award-winning City Centre Community
Parking and Locker
Included In Purchase Price!
Occupancy:
Commencing October 2012
One-Day Only Deposit Structure:
$2,500 with Agreement of Purchase & Sale
Balance of 5% in 30 days
5% on Occupancy