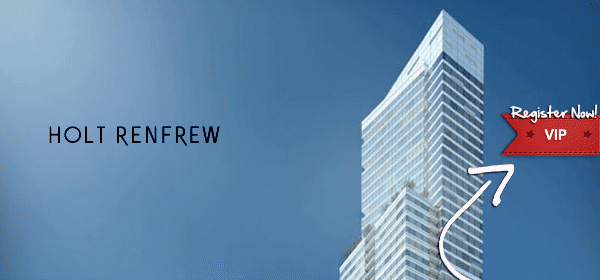 When you look at engineering feats in architecture, we have come a long way. Citizen has proved it with Absolute and the L Tower. The near 1 kilometer tall Burj Hotel in Dubai has certainly caught our attention especially the attention of major developers like Tridel, Menkes, and Canderel. Is it becoming somewhat of a trend this year for Toronto developers to push the engineering limits with new release condominiums averaging well over 60 storeys or more? What's happening here? Is Toronto's forecast growth this rapid in the near future? I personally may think so but on the other hand I think its just a competition for the tallest residential tower in North America, Let's take a look…
Canderel are currently busy in the middle of building a monumental 78 storey mega tower "Aura" right at the corner of Bay and College.
Tridel registered their flagship tower "Ten York"  and has been stamped, sealed and approved for 75 storeys and will go on sale in September of this year.
Menkes is awaiting approval for a dual 70 storey residential and office tower dubbed "90 Harbour / 1 York Street".
And lastly, The Holt Renfrew Tower also Known as 50 Bloor Condos is a proposed condo, office and retail project by Morguard Corporation. The Tower will include a new Holt Renfrew retail store at ground level. In addition, a total of 600 suites at 83 storey's making it the tallest residential tower in Canada.
An array of 60+ storey towers like King Blue, E Condos, Eau Du Soleil and the newly built Trump Towers are becoming the norm in pre-construction sales in 2012. Price per floor premiums haven't changed much from the standard $1,000 per floor. All the amenities seem to gain height as well like infinity pools, garden roofs and sky patios and most of this is becoming the new standard in high-rise condominiums.
While some may argue what the perfect condo in Toronto will be, at least you can say that you live in the tallest tower in North America… Only for a while until another height-defying development raises the bar again!